If you can't make it to our store or are simply pressed for time, you can have your order delivered to you by the friendly folks at DeliveryDudes, or you can avoid the lines and call-in your order to one of our stores then just come and pick it up!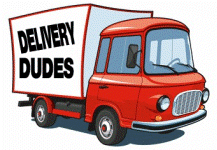 Sometimes you're too busy. Sometimes you're too tired. Sometimes your underwear is too awesome to wear pants over. The reasons to order from Delivery Dudes are endless because anything is more fun than battling traffic, finding parking and picking up take-out. When a smoothie urge strikes, consider DeliveryDudes to have your smoothie order delivered directly to you! Once you've decided what smoothie(s) you'd like, simply place your order online or over the phone at 561-225-2285. Then, while you're kicking your feet up, starting a Netflix binge-watching session or working on your Pulitzer Prize-winning novel, we're racing around town picking up your smoothies faster than you thought humanly possible, for just $5.


Our standard cash delivery fee is $5 and if you're using a credit card it's $7. Cash orders receive a $2 discount. If we're stopping
at multiple restaurants, each stop is an additional $5. So for example, if you order from two restaurants and pay with a credit card
your delivery charge will be $12.
Hours & Delivery Range | FAQs | Contact the Dudes





All locations of Smoothie Whirl'd accept telephone orders during normal business hours*. Just give us a call, tell us what you'd like, and pre-pay for it over the phone with your credit card. Then, just come in to that location and pick up your order and be on your way!


Today is

* We will not accept any phone orders less than 30 minutes prior to that day's scheduled closing time. Smoothie Whirl'd will close early on Memorial Day, the 4th of July, Labor Day, the day before Thanksgiving, Christmas Eve and New Year's Eve. We'll be closed on New Year's Day, Easter Sunday, Thanksgiving Day and Christmas Day.
Our West Palm Beach location is closed on Sunday.